October 10-12, 2014 at Alameda County Fairgrounds
For Scouts and Non-Scout Youth in the San Francisco & Alameda Counties
Vision
Provide a singular, unique and exceptional outdoor experience for all Scouts 1st – 12th grade in the San Francisco & Alameda Counties. This event will provide activities and feature program elements that help to create interest and increase our Scouts' and youths' knowledge in the STEM fields of science, technology, engineering and mathematics. It will also provide some of the traditional elements of a large Scouting activity. Our goal is to encourage participation and seek the support of community agencies and businesses relevant to the fields of STEM. A key benefit for our youth will be the opportunity to achieve rank advancement and to receive first-hand exposure to companies and professionals in the science fields.
Dates, Location and Attendance
The event will be held on October 10-12, 2014 at the Alameda County Fairgrounds. Anticipated attendance includes 1,200 campers and 2,300 Scout day participants, plus an additional 500 outside youth-group participants, for a total attendance of 5,000.
Key Program Elements
STEM helps develop the natural curiosity of children and encourage their sense of wonder.
Through hands-on activities and learning experiences, scouting helps guide young people on the trail to a lifelong appreciation for self-improvement, community involvement, and the outdoors. Chemistry, astronomy, map and compass, ecology, environmental science, geology, aviation, and insect study are only a few topics that scouts explore. With technology scouting activities expose youth to technology galore. Boy scouts learn how to apply scouting's leading edge — explain, demonstrate, guide, enable—as they mentor younger scouts and teach them new skills.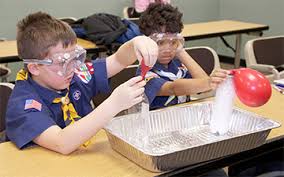 Sponsorship Levels
Presenting Sponsor - $25,000
Naming rights for the Event. i.e.: 2014 Chevron STEM Encampment
Evening Show Sponsor - $15,000
The Evening Show will be a multi-media extravaganza show featuring demonstrations and 'shows' that are both scientific yet entertaining.
Eagle Sponsor - $10,000
Eight single day admission passes

Two free parking passes

Company logo recognition banner at entrance gate

Company logo on San Francisco Bay Area Council website

Company logo on advance printed material

Company logo on camper information packets (print 1,500)

Recognition in leaders guide book (print 500)

Commercial booth space 10' X10'
Life Sponsor - $5,000
Six single day admission passes

Two free parking passes

Company logo recognition banner at entrance gate

Company logo on San Francisco Bay Area Council website

Company logo on camper information packets (print 1,500)

Recognition in leaders guide book (print 500)
Star Sponsor - $2,500
Four single day admission passes

Free parking pass

Company logo recognition banner at entrance gate

Company logo on San Francisco Bay Area Council website

Recognition in leaders guide book (print 500)
First Class Sponsor - $1,000
Two single day admission passes

Company logo recognition banner at entrance gate
Contact: David White, Event Chairman, dl.white@comcast.net, (925) 963-0983
Tim Buchen, BSA Staff Advisor, timb@sfbac.org, (510) 577-9207