Family Vacation Camp Weekends
Be Part of Something Bigger
For ALL BSA-registered Scouts, Family Members and their Guests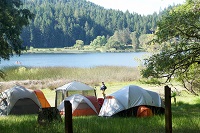 An exciting opportunity for your family to experience the scenic outdoors and fun adventures at the premier Boy Scout camp properties of the San Francisco Bay Area Council. Family Vacation Camp is a long weekend to hike, swim, enjoy nature, read a book, relax in the shade or participate in many other exciting activities at a fraction of the cost of a hotel or resort vacation. At Wente Scout Reservation you'll have the opportunity to boat and fish on an 80-acre lake. At Camp Royaneh and Wente Scout Reservation there will be many activities and opportunities for the whole family to enjoy together including horseback riding, campfire programs, evening ice cream socials and more!
Registration: Please register for Family Vacation Camp Weekends by clicking on the dates below, or at www.sfbac.org.
Available Weekends for 2020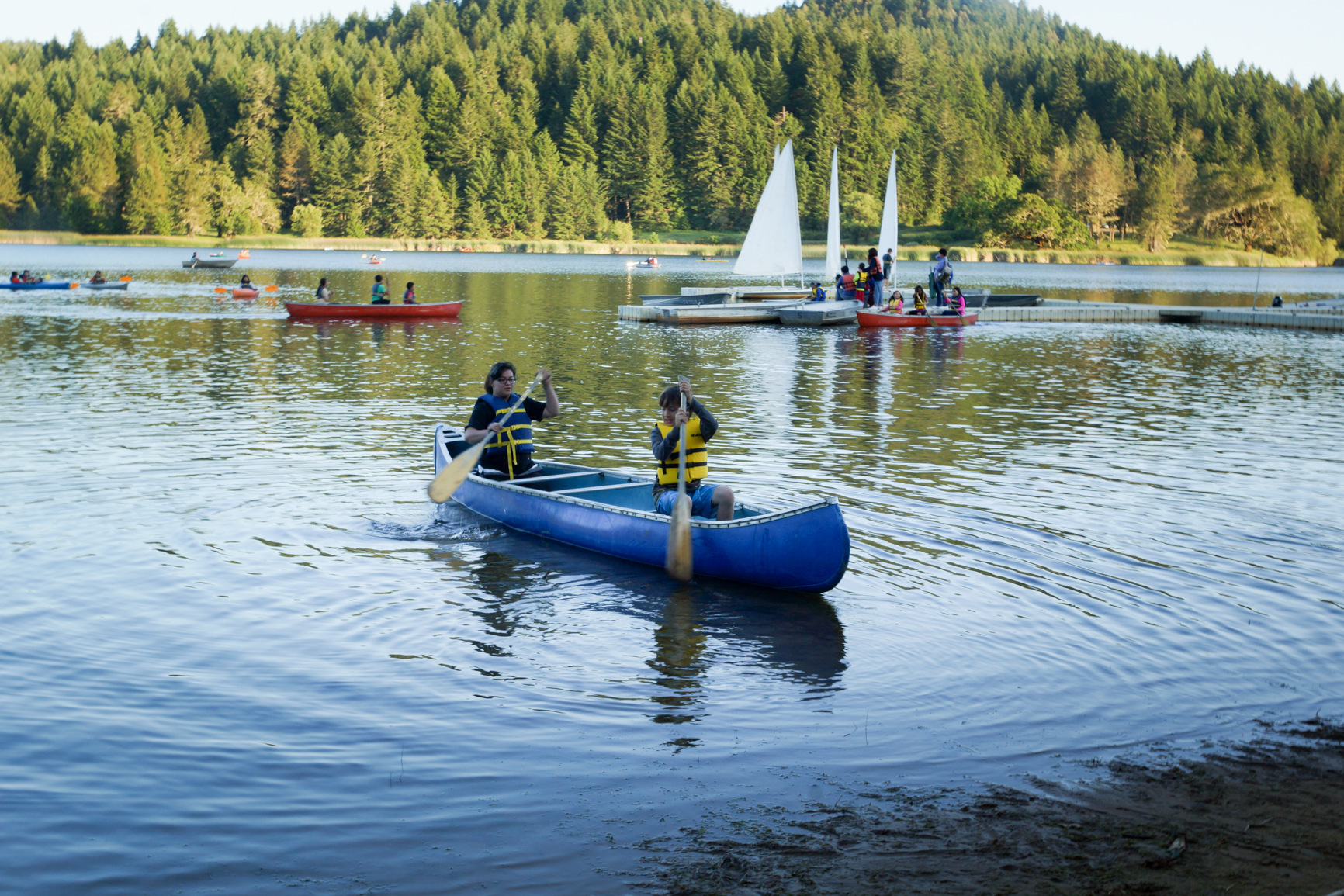 Wente Scout Reservation
Family Vacation Camp - Summer's End Wknd - Aug 28-31, 2020
Family Vacation Camp - Labor Day Wknd - Wente Scout Reservation
Camp Royaneh
Family Vacation Camp - Labor Day Wknd - September 4-6, 2020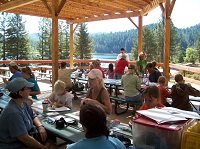 Who May Participate
The families of anyone registered in the Boy Scouts of America (Lions, Tigers, Cub Scouts, Scouts BSA, Venture Scouts, Sea Scouts, Explorer Scouts and adult leaders) may participate. You can bring along friends and relatives to camp with you as well.
Family Vacation Camp is intended to provide a quality family atmosphere! Although it is not intended for Scout unit outings without family members, many units use Family Vacation Camp as an opportunity to have fun in the outdoors while socializing with the other family members from their units, and it is a great time to do annual program planning.
2020 Camp Fees
Friday Pizza Dinner & Salad Bar: $10 per person (can be ordered by any family member)
Monday Continental Breakfast: $10 per person (can be ordered by any family member)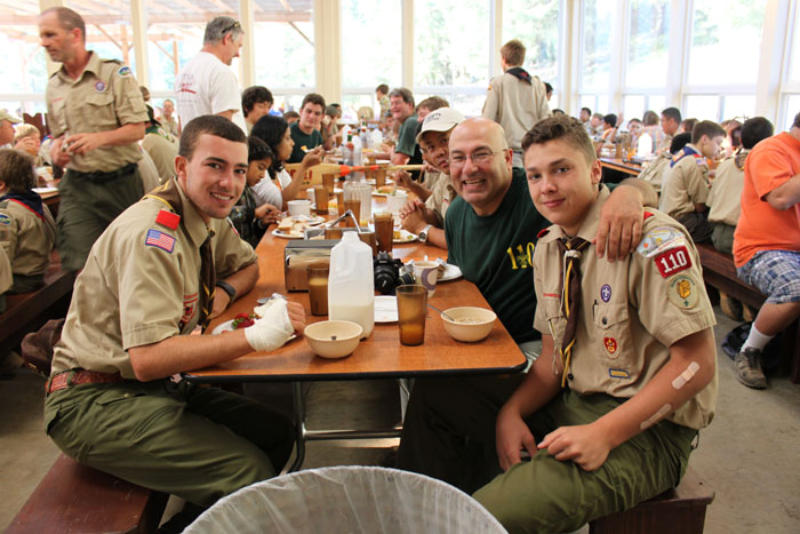 Dining Hall Meal Plans (see further details below)
Age 18-years or older (adults) $110 per person
Age 11 to 17-yrs old $90 per person
Age 5 to 10-yrs old $90 per person
Age under 5-yrs old no charge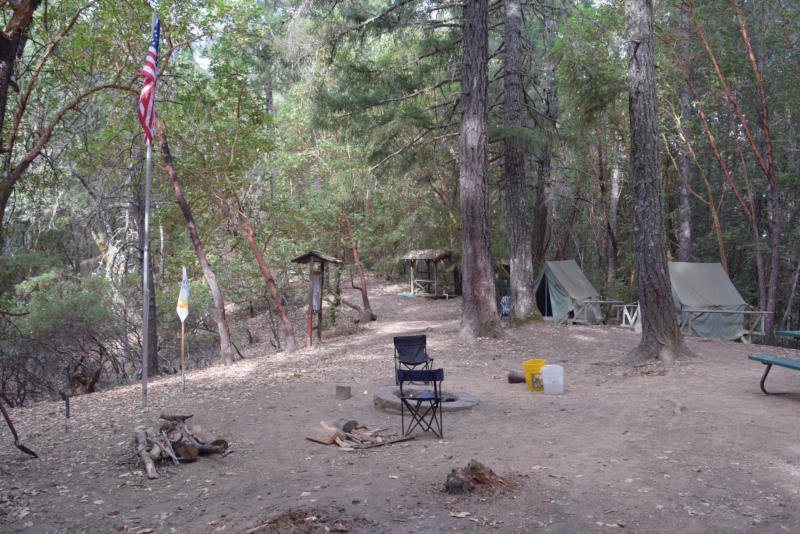 Basic Camper Plan
(bring your own food and do your own cooking at your campsite)
Age 5-years to adult: $50 per person
Food Service
You may bring your own food or have prepared meals served in the dining hall. Sunday evening, all campers are invited to attend the Ice Cream Social in the dining hall, an event included in ALL camper fees.
Regular Meal plan begins with Saturday breakfast and ends with Sunday dinner. Friday dinner or Monday breakfast can be purchase by any participant for a small additional fee of $10 per person. We can accommodate some gluten-free and vegetarian diets, if indicated in advance upon registration. Those with serious allergies or specific diets (including vegan) should consider bringing your own food which can be stored in our large walk-in refrigerator. Unfortunately, last minute special requests cannot be accommodated.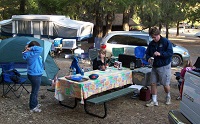 Sleeping Accommodations Sites are chosen upon arrival at camp; first-come, first-served. We do not take reservations for specific sites unless your group has 40 or more registered campers together. Other than for RV/Trailer sites, there is NO camping in your vehicle in the parking lot or anywhere else in camp.
Camp Royaneh open-air cabins (limited), canvas platform tents, or bring your own tent.
Wente Scout Reservation canvas platform tents, bring your own tent, or RV/Trailer sites.
RV/Trailer Sites (WSR only) $40 per RV/trailer for the whole wknd (7 spaces available) includes power & water hookups.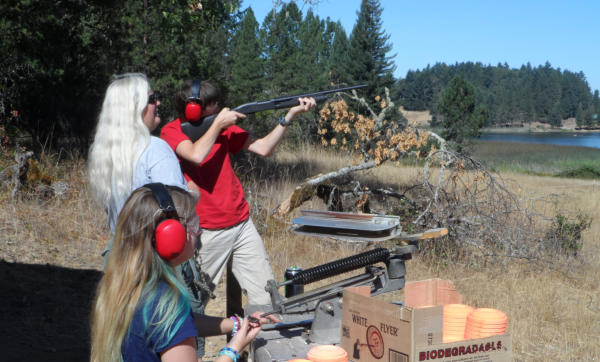 Activities
There are many activities to do at camp. Hiking, swimming, crafts, archery, BB guns, rifle, shotgun, tomahawk-throwing and horseback riding. Wente Scout Reservation also offers fishing and boating.
> The SCOUT OATH and LAW are applicable at all times in camp;
> There may be a few other guidelines for your personal and family safety.
> You MUST check-in first at the Camp Office! DO NOT go to a campsite and set up beforehand; you might be asked to move! You will receive further camp guidelines after making your online reservation.
> ALCOHOL OR OTHER DRUGS ARE NOT PERMITTED anywhere in camp;
> PETS ARE NOT PERMITTED, except REQUIRED service animals;
> BICYCLES OF ANY KIND ARE NOT PERMITTED.
> HORSES: Trail Rides are available for those 11-years of age or older. Arena rides are available for those riders 10-years old or younger. All riders must have at least a 24" inseam, wear long pants and closed-toe shoes. Please see the Camp Trading Post for horse ride schedules, costs, registration and other details.
Be a Family Vacation Camp Host!
Some families volunteer as Camp Hosts to help the Camp Staff throughout the weekend, in exchange for a partial camp fee reimbursement. Anyone interested in the Camp Host opportunity can see the link below or email Camping Director Michael Andrews: michael.andrews@scouting.org.