All information for 2020 is updated! Registration is open
Cub Scout & Family Camping Programs
---
Tiger Cub Safari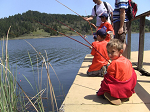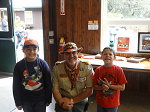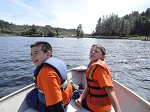 Deep in the rolling wilds of Wente Scout Reservation live fearsome creatures that no one can tame! They wander the forest howling and yelling with sheer delight; these adventurous creatures are TIGER CUBS! Tigers on Safari shoot bows and arrows for bulls-eyes, run obstacle courses most people would never dare try, and explore Nature and go fishing by the lake! But most of all, Tigers have FUN
"

TIGERS RULE

, OTHERS DROOL!"
Click on the dates below to join us for an overnight adventure of Tiger Cub spirit!
Tiger Cub Safari - Overnight Session #1 - September 19-20, 2020
---
Mom & CUB Weekends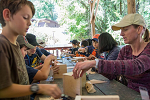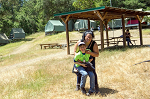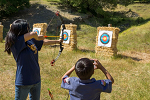 Located in the beautiful coastal redwoods of Camp Royaneh. The all-volunteer staff will guide you through a weekend of fun and adventure especially designed to reinforce that mother-child bond. A great escape for Cub Scouts (first-grade through fifth-grade) and their moms (or another adult female partner like grandmothers, aunts, etc.). Two sessions are available each year in May around Mother's Day, but don't hesitate, cause they both sell out every Spring!
Click on the dates below to register for your weekend of fun together!
Mom & Scout Weekend - October 9-11, 2020
---
Local District Day Camps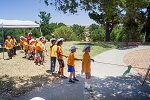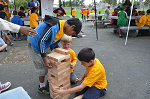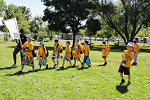 For ALL Cub Scouts and Webelos! Get out your maps and join us on a daily adventure full of fun, excitement, and advancement. You will arrive each morning for a day of thrilling activities, and each afternoon you'll return home and tell stories to all those who did not join you on your Summer quest!
Cub Scouts may attend ANY of the following local District Day Camps; click on the location of your choice and sign-up NOW!
---
Cub Scout Wolf & Bear Weekend
Join us for an Adventure Quest in the 90th anniversary year of Cub Scouting! All Wolves & Bears (and Cubs who just finished their Tiger year) are invited to a special weekend camping outdoors for new skills and exciting adventures at rustic Rancho Los Mochos Scout Camp in the scenic Livermore Hills! This is a unique two-night camping program for Wolf & Bear Cub Scouts and their adult partners to be challenged at Archery, BB guns, Nature, Crafts and so many more fun activities!
July 17-19, 2020 at Rancho Los Mochos Scout Camp off Mines Road in the Livermore Hills of southeastern Alameda County. This exciting adventure starts after 6pm on Friday night, and closes Sunday early afternoon.
Register NOW at the link below! More detailed information and a packing list will be sent in early July to all registered participants.
Cub Scout Wolf&Bear Wknd - July 17-19, 2020
---
Cub Scout Resident Adventure Camp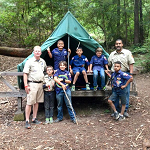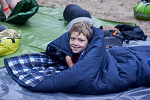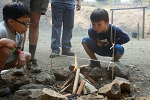 The tribes of the Thunderbird need your help to find their treasure. So pull on your hat for adventure around every turn as you search for the treasure. What is the treasure you seek? Is it gold, an old relic, or a statue with rubies or eyes? No, its even better . . . it's fun and excitement! The Thunderbird awaits you to join them "TO HAVE FUN IN THE SUN" at Camp Royaneh!
This event has been postponed and
a new date has not been set at this time.
Wolf & Bear Adventure Camp 3-day Sessions:
Cub Resident Adventure Camp - Wolf/Bear Session #1
Cub Resident Adventure Camp - Wolf/Bear Session #2
Webelos Adventure Camp 6-day Sessions:
Cub Resident Adventure Camp - Webelos Session #1
Cub Resident Adventure Camp - Webelos Session #2
---
Cub Camping Connection
There may be many of you out there who are BRAND NEW to Cub Scouting. If so, then this is the overnight campout for you! Bring along your parents and your brothers & sisters for a special introduction to Cub Scout Camping, and "SURVIVE THE ADVENTURE!"
---
Family Vacation Camp Weekends
Family Vacation Camps are a great chance for the whole family to enjoy time together in the outdoors. Shooting at the ranges, swimming, and horseback riding are just some of the exciting activities that await your family members. You can choose to cook your own food or we can do the cooking for you in our large camp dining hall. So bring Mom & Dad, brothers & sisters along together and join us for a thrilling weekend!
August Summer Weekend and Labor Day Weekend at Wente Scout Reservation
Labor Day Weekend at Camp Royaneh
Click here for more information and registration links: Family Camping (Camping)
---
Cub Camping Documents